International E&P
The two recent decades have witnessed PVEP's efforts to implement its investment practice to expand the company's operations worldwide as promoted by the Government and its mother company – PetroVietnam.
Processed quite a few opportunities since 1997 and started up by participating registered interest in project Tamtsaq (Mongolia) in 1999, however PVEP only became an actual international oil investor in August 2000 when it acquired 4.5% interest in block PM304, offshore Malaysia from Amerada Hess, officially started its overseas investment portfolio. Following the deal with celebration of the first oil from Cendor field in the contractual block in 2006, up to the present, PVEP has been extending its operating areas and the number of oil and gas projects to almost every region of the world. PVEP's staffs have been overcoming all hardships to conquer the complex projects, of which mostly are geographically difficult and remotely allocated in Africa, South America & the Caribbean, Middle East, Central Asia, apart from some projects in Southeast Asian countries.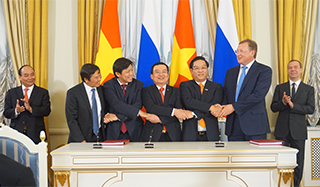 11
Overseas petroleum projects
Excluding several projects relinquished already, the corporation is now managing 11 overseas petroleum projects, 5 projects in Asia (Malaysia, Cambodia and Myanmar), 2 in Africa (Algeria and Congo), 1 in the Middle East (Iran), 3 in the South America & the Caribbean (Peru, America and Venezuela). In managerial aspect, PVEP is operating 03 projects, jointly operating 02 projects with foreign partners and owning interests in 06 others.
In the coming period, PVEP's objectives are to keep focused expanding exploration operations in existing project areas, diversifying the approaches of opportunities and petroleum assets; preferentially acquire proven asset and new producing fields to ensure reserves increase target; actively seek to farm in the potential contracts in exploration phase; consider the current condition to select projects in line with the financial capability of PVEP.